Top 5 Places To Visit In Scotland

Scotland is a country complete with rolling hills, historical landmarks, vibrant cities and breath-taking views. All packed into 80,077 km² of land. When you think of Scotland, you may think of kilts, bagpipes and haggis. When we think of Scotland, we think of adventure, relaxation, culture and beach escapes.
If you are planning a UK staycation and are wondering where you should visit next, we think Scotland could be the place for you. We've been searching through our Scottish travel bible and managed to whittle it down to give you 5 of the best destinations to visit on your travels to the North of the UK.
Let's dive in!
Edinburgh
With a famous castle that dominates the skyline, Edinburgh, the capital of Scotland is the perfect mix of historic charm, vibrant city life and picturesque views. It's pretty much got it all.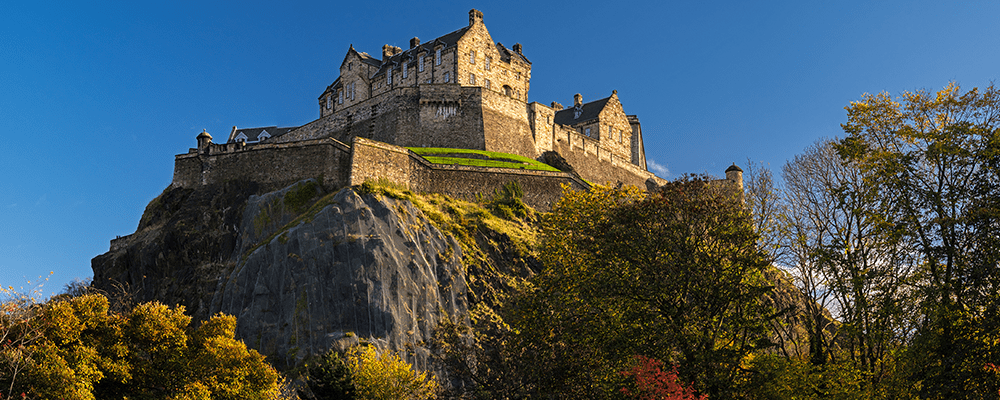 If you're looking for some fun, Camera Obscura & World of Illusions is the perfect place for friends and family to experience some eye-boggling views! If you are looking to explore the city's famous history, of course, a visit to the castle is a must, but alongside this, you can head to the Old Town and explore the Edinburgh vaults for a look into the paranormal and embark on ghostly tours. For those looking to experience the vibrancy of the city, the diverse nightlife has a lot on offer; and there is a long list of cool and quirky bars with local cuisine and drinks available. You can even go the extra mile and try out one of the many drink tasting tours - delicious!
Inverness
Home to the myth of the Loch Ness Monster, Inverness is situated on the northern coast of Scotland and is the largest city and cultural capital of the Scottish highlands. There are plenty of monstrous myths and ancient mysteries to be discovered - so it is, without doubt, the perfect place for those looking to sink their teeth into conspiracy theories and some detective work.
For travellers looking for a bit of an adrenaline rush, why not take up the opportunity to head on an exhilarating RIB boat ride across Loch Ness? The 80-minute journey will reach speeds of more than 40 knots (45 mph)! Starting at Dochgarroch Lock, the boat will take you around Aldourie Castle, Urquhart Castle, Boleskine House, The Bona Lighthouse, Inverfarigaig and the John Cobb Memorial. So not only is this great for thrill-seekers, but also those looking to explore some of the historic and cultural references that Inverness has on offer. But make sure you remember to keep your eyes peeled to see if you can sport the famous Loch Ness monster creeping about below the water's surface. If you're not a fan of adventures on the water, there is still plenty on offer inland.
To refresh your mind and breath in the fresh scent of beautiful flowers, a visit to Inverness' Botanic Gardens should be on the cards. Or if you feel like you need to treat yourself, why not head over to the Victorian market and snap up a bargain or two!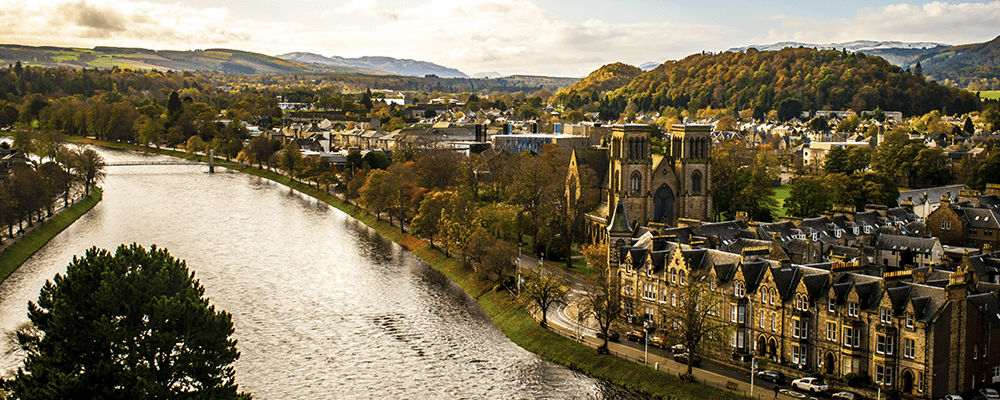 Achmelvich Beach (Lochinver)
Ach, what a beach! This one is an absolute stunner and will offer up the perfect snap for Instagram, photo books and postcards! Just off the beaten track and a place of natural beauty, Achmelvich is renowned for the diverse wildlife that can be seen on its shorelines, including seals, otters and white-tailed eagles. It is a popular spot with water skiers, windsurfers and kayakers and has a bustling beach during the summer months. It also has a number of hikes and climbs on offer, including the infamous Suilven mountain, so it is definitely a destination for those looking for a little adventure.
If you want a beach break, this too could be the place for you. As you step onto the white sands of the bay, you feel as if you have been transported into the Caribbean, with a cocktail in hand, watching the waves break on the shore. Of course, the highland breeze will bring you back from your tropical daydream, but although the weather may not be as warm, everything else offers you the perfect beach experience. From caving, fishing, swimming and snorkelling - this is where Scotland helps bring the tropical adventures to our UK shores. This has got to be one of the best beach escapes and adventure breaks that the UK has to offer.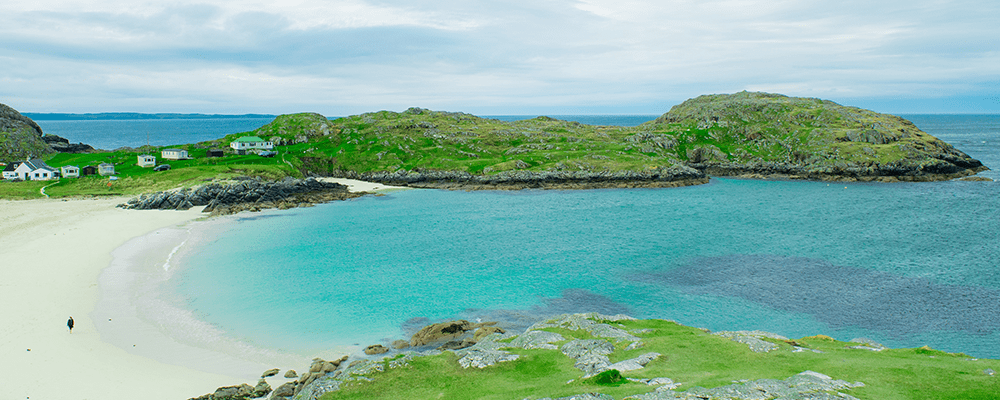 Glencoe
Sitting snug in a valley within the Scottish highlands, the village of Glencoe is an idyllic setting for those looking to get away from city life and submerge themselves in countryside living. Think Emmerdale, think Doc Martin. A quaint village complete with thatched cottages and the famous local pub. Situated in one of Scotland's most scenic highland glens, Glencoe offers up miles of beautiful rural landscapes, populated by just under 400 people!
If you're a film fanatic and a fan of the films about a man in a black suit (not the Men in Black) who likes things a little shaken, not stirred (know who we are on about yet?), then a visit to Glencoe is a must for you!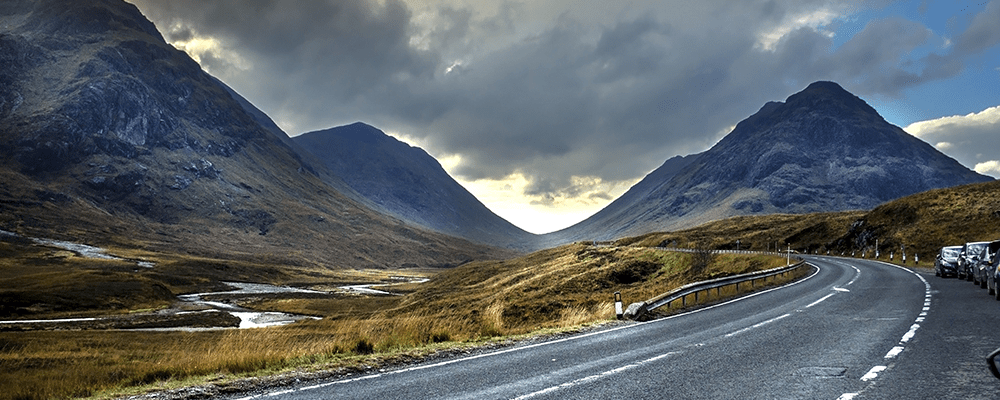 One of the most recent James Bond films, Skyfall, had a number of scenes filmed within this region of Scotland and was the location of the Bond's family home, Skyfall House. Several Harry Potter scenes were also filmed here, including a number of key scenes in the third film, the Prisoner of Azkaban. With its rural landscapes, Glencoe really is perfect for those looking to take time away from the day to day. Stroll through the village, breathe in the fresh air and feel your worries float away; relax and unwind. But if you do feel like you need to let off some steam, there are plenty of activities on offer, from hikes, skiing, snowboarding and biking around Glencoe Mountain!
Isle of Skye
Last but by no means least, attached to the mainland on the Northwest coast by nothing but a simple bridge, the Isle of Skye is our final destination. Famous for its scenery and rugged landscapes which are simply breathtaking, the Isle of Skye is yet another top location for some relaxation. A dip in the famous fairy pools is perfect for those really looking to get in touch with nature. You do need to be brave to jump into the cold waters, but trust us, it's worth it! From there you can immerse yourselves in natural waters pouring down from the spectacular waterfalls and if you're feeling extra brave, take the plunge and jump into the waters from a 10m high cliff edge!
Once again for film fanatics, the Isle of Skye has some beautiful locations that you should recognise from the big screen. The Quiraign, Portree, formed from an ancient landslip that is still moving can be seen in films such as The Needle, The Table and The Prison. If you're a history and science buff and love dinosaurs, then the museum at Staffin is one to visit. It holds a HUGE collection of fossils and dino info. If you head down to the local beach, you can also try and locate the internationally important and preserved dinosaur footprints. One of our favourite things to do in the Isle of Skye though is witnessing dolphins and whales in their natural habitats. With some of the best waters in the UK to see marine life, Skye can be home to an array of ocean inhabitants including, seals, dolphins and the mighty whale. In the summer months, you may also spot a basking shark or two!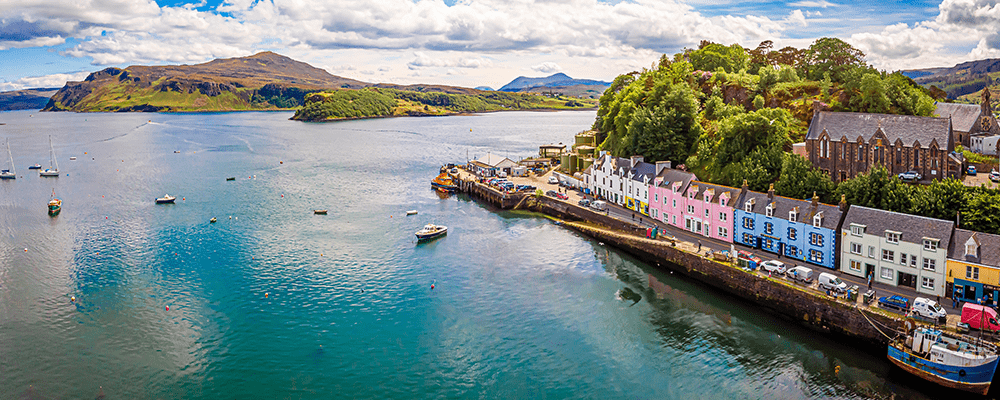 So there we have it. 5 incredible destinations to visit in Scotland. As far as a UK staycation destination, it sounds pretty good, right? Connect, discover and enjoy everything that the UK has to offer, with a coach operator that you can trust.
For information or to discuss future travel with our travel consultants, please call 03301 358 469 or click here to get a quote!