Top 5 Places To Visit in Northern Ireland

Packed into the smallest country within the UK, which is home to just under 2 million people, are quaint, picturesque towns, mountain ranges and plenty of history. Northern Ireland, although small in size, is an incredible destination for your next UK staycation. So let us dive right in and go through some of our favourite spots in this incredible country.
Belfast
Bursting with 'tonnes' of history, Belfast is renowned for being the home of the world's largest Titanic visitor experience. Revisit the story of Titanic from her conception in Belfast in the early 1900s, through to her construction and launch, to its maiden voyage and subsequent place in history.
Fan of the hit TV series Game of Thrones? Well if you are, Belfast presents you with the perfect opportunity to explore the 25 beautiful locations in which many of the most famous scenes were shot. If you like looking in and around grand architectural buildings, then a visit to the Belfast Castle and City Hall would be worth adding to your list. The 19th century Scottish Baronial style castle is a beautiful venue, regularly used for weddings and events. It boasts unrivalled views of the city and a unique experience for all its visitors.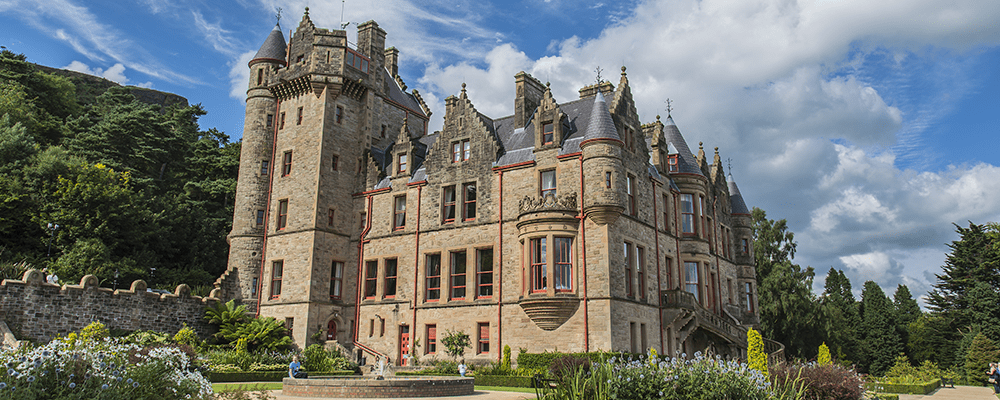 How could we forget the Giants Causeway?! An area of around 40,000 interlocking basalt columns as a result of volcanic eruptions - this is truly an incredible piece of natural architecture. Explore the Causeway coasts' dramatic cliffs which have inspired artists and scientific discovery; capturing the imaginations of all who visit. There are plenty of tours to join, and you can also explore yourself for free (just a small parking charge!).
Lisburn
8 miles southwest of Belfast you will find the city of Lisburn. Birthplace of the Irish linen industry which was founded way back in 1698 by the French Huguenot Loui Crommelin (did you have trouble saying that... we definitely did), with streets lined with quaint pubs and local goods, this city is the perfect spot for a relaxing break in County Antrim. Every city you visit has some historical references (which as you may have gathered, we love to talk about); and Lisburn is no different. There are several beautiful historical sites just waiting to be explored; from Lisburn Castle Gardens to Brookhall Historical Farms and Hillsborough Castle.
Fancy a deeper look into the world of linen? If so, then a trip to the Irish Linen Centre and Lisburn Museum is on the cards! After just a couple of hours touring this incredible fortress of linen knowledge, you'll know all that there is to know of the city's linen industry. You can even watch the experienced spinners turning the coarse flax material into the fabric; it is truly mesmerising! Now if you would like to explore the great outdoors, then we recommend heading to Wallace Park which is full of lush green grass, children's play areas, and in the summer, some incredible free events! For the adventure lovers, you should head to The Limestone Way in Belshaws Quarry National Nature Reserve - it is simply fascinating.
Londonderry
Also known as Derry and the city of the River Foyle, this is the second-largest city in Northern Ireland. The city is renowned for the 17th century 'Derry Walls' which are around 1.5km in circumference and form a delightful walkway around the inner city and allow you to take in the original towns Renaissance Style layout. These walls have 4 of its original gates still intact; Bishops Gate, Ferryquay Gate, Butcher Gate and Shipquay Gate. Another 3 additional gates have also been added: Magazine Gate, Castle Gate and New Gate - we challenge you to head there and recite the names of all 7 gates without cheating!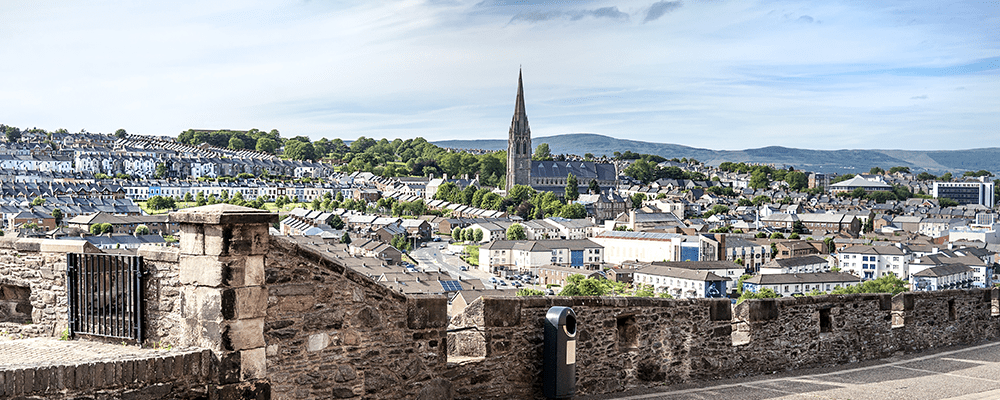 If you want to get closure to the diverse culture of Northern Ireland, you should pop over to the Cultúrlann Uí Chanáin. A venue like no other, this stunning architectural building is the perfect place to attend and hold events. It showcases some of the best traditional singers and dancers that Northern Ireland has to offer and a visit here is not easily forgotten! With its crazy zig-zag interior, it's an epic example of architectural genius, so we were not surprised to find out that it had been nominated for several architectural awards.
Our final stop is into open-air art. As we know, there is plenty of history within this city, so much so that the residents have painted it on the walls! These murals are keyhole views into the time in Londonderry's history that is widely known as 'The Troubles'. You can enjoy tours around the city exploring these murals, and there are no better tour conductors than the artists themselves!
Ballintoy
Sitting snugly in County Antrim, Northern Ireland; Ballintoy is a quaint village, townland and civil parish. Situated on the coastline, this picturesque destination offers holiday goers and 'staycation-ers' a picture-perfect view of the North Atlantic Ocean. So why is Ballintoy on our list of top 5 places to visit in Northern Ireland? Well… Labelled 'a photographer's dream', Ballinoy Harbour, meaning 'Town of the North' is filled with rocks and small boats, a traditional postcard image. This small fishing harbour is located at the end of a steep road that passes the entrance to Larryband and Carrick-a-Rede Rope Bridge. It is simply stunning and is close by to another few key locations like the Giants Causeway which we discussed earlier in this blog.
The National Trust Carrick-a-Rede Rope Bridge is also a spectacular sight. The bridge links the mainland to the small island of Carrickarede. The 20-metre long bridge sits 30 meters above the rocks and allows you to distance yourself from the day-to-day and get a little closer to nature. Stand tall and absorb the blue Atlantic Ocean which gently hits the rocks underneath. A beautiful and enchanting experience. Ballintoy offers up yet another Northern Ireland Castle. This time in the form of Kinbane Castle. Kinbane, meaning 'White Head' (and we don't mean a spot), which refers to the white limestone on which the castle stands proud. It is a small, two-storey building that was built by Colla MacDonnell and brother Sorley Boy MacDonnell in 1547. There is not much left of this historic site, but this State Care Historic Monument is a fantastic fortress for compelling historical stories and stunning views.
Lough Neagh
Our final stop in Northern Ireland takes us to the lake of Lough Neagh. This large freshwater lake is the largest of its kind by area within the British Isles with a surface of 151 square miles. HUGE! In fact, the lake supplies around 40% of Northern Ireland's water! The tranquil Lough Neagh is surrounded by charming villages and some of the country's biggest cities - so it's in the perfect location. Slightly off the beaten track, it is packed with some beautiful walks, vibrant bars and delicious restaurants offering a full range of activities for a jam-packed day out.
To really explore what Lough Neagh has to offer, there are a number of tours available. The Ram's Island Tour will help you to explore the history of a 1,000-year-old Celtic monastic settlement and the ruins of the O'Neill family's nineteenth-century summer house. The Craic 'n Food and Drink Tour will give you the opportunity to indulge in a range of Lough Neagh's tastiest local produce and meet the people that make that all possible! For those who love adventure, the Wilderness Adventure takes you to the rugged wilds of the Lough Neagh shore, stepping away from our modern loves to learn how the early man survived. You will also be taught some necessary survival skills - so watch our Bear Grylls!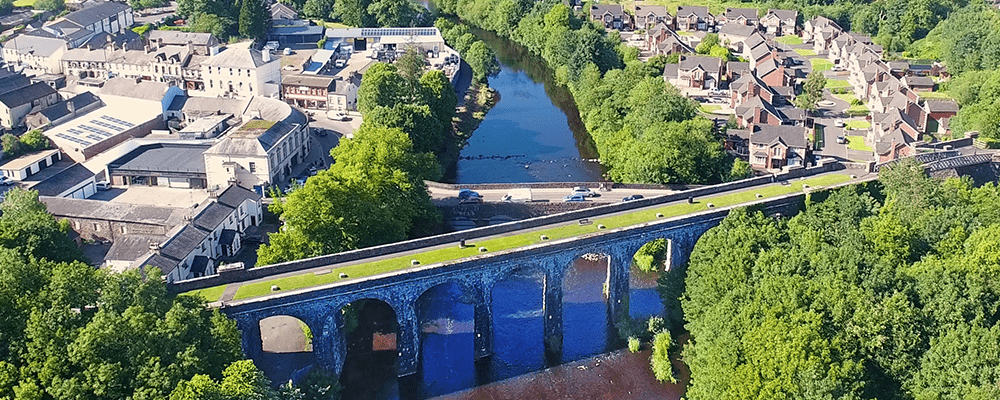 If we have not said it already, Northern Ireland really does have it all; from historical sites, to picturesque views and vibrant cities. It is the ideal destination for your next staycation. Our team of Travel Consultants are ready and waiting to help you plan your next adventure, whether it takes you to Northern Ireland or beyond. Get in touch with our team today to help you and your group staycation safely and in style, please call 03301 358 469 or click here for a quote!