Top 5 Places To Visit In England

England, the largest country in the UK is home to nearly 84% of the population and is the perfect location to accommodate all your staycation needs! Connect, discover and enjoy what England has to offer with its bustling cities, cultural references, historical landmarks and outdoor adventures.
Whether you want relaxation on the beach or adrenaline-seeking activities - England is the destination for you! We have researched our top 5 destinations in England that we recommend to venture to and experience the staycation of your dreams. Let's delve into the wonders that make England...
Cornwall
Cornwall, England's Southwestern tip is formed of wild moorlands and sandy beaches and has been described as the number one staycation destination within the UK, due to making you feel like you are abroad! This county is known for being a popular attraction for water sports such as surfing in its rare but gorgeous blue waters. It is also renowned for its tasty pasties and fudge and of course a traditional cornish scone with jam and clotted cream.
Travel to the south coast of Cornwall to experience the Cornish Riveria. The contrasting views of green hills guiding down to the shorelines are where you will find fishing villages, harbour towns and tropical gardens. The town of Falmouth is perfect for a scenic boat ride or a trip to the town market and local cuisine dining. Take in the view of the South Coast from Pendennis Castle, a 16th-century fortress built by Henry VIII and step back in time to explore its history.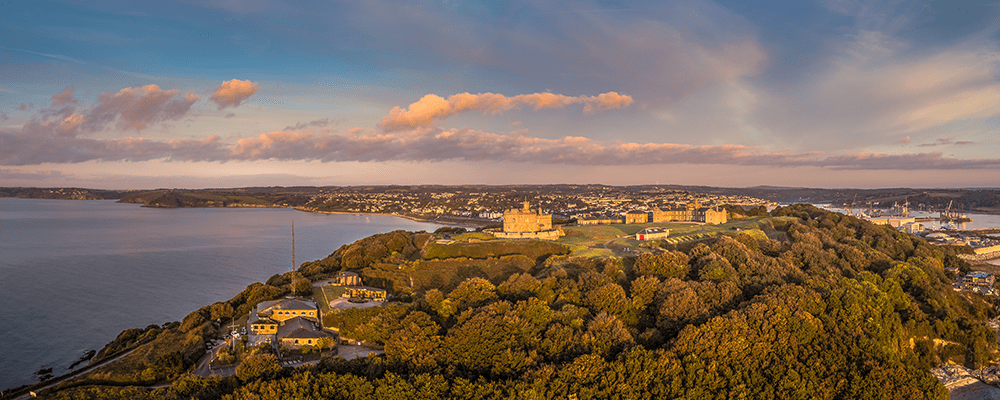 The north coast of Cornwall consists of rugged cliffs and sandy beaches that offer opportunities for adventure, relaxation and exploring the local culture. Newquay is the prime location to get into the water whether this is swimming, surfing or kayaking - this is the best location to catch the waves. Bude, as well as being ideal for water lovers, also offers secret coves where wildlife can be spotted; seals, puffins and dolphins too! There is no other place like this in the UK! Cornwall is full of hidden gems that are perfect to accommodate any type of holiday that you, your family or friends are seeking.
Devon
Fossil cliffs, national parks, cultural towns and sandy beaches, Devon is the location of many. No trip to Devon is exactly the same due to its diverse locations from the hustle and bustle of the built-up cities of Plymouth or Exeter, to the coastal adventures down to the Jurassic Coast where you may find a new discovery.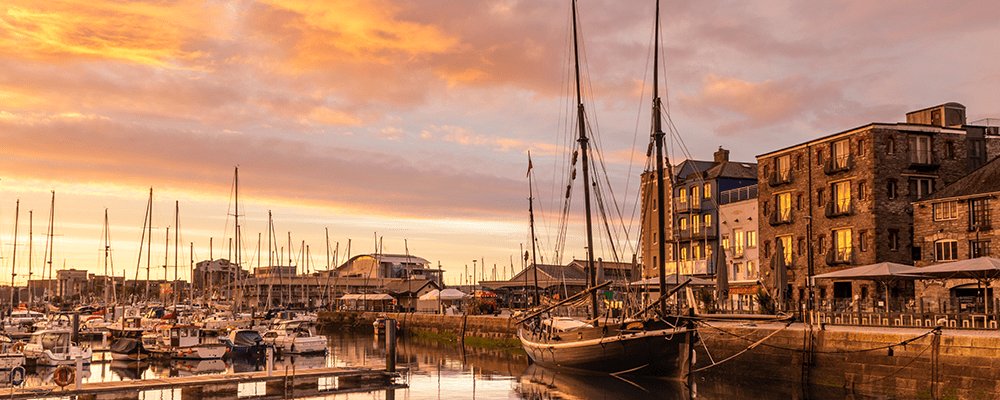 Devon is ideal for countryside scrolls or for relaxing by the sea and is perfect for the family The National Parks are great for exploring and home to many castles and country estates such as Berry Pomeroy Castle that appeal to the history enthusiasts As well as Devon's well-known attractions such as a choice of theme parks, zoos and wildlife centres, Devon can offer beautiful natural attractions to get back in touch with nature.
Jump on a boat, tram or train to absorb the stunning scenery and venture to Torquay Stone ages caves, where you can get up close to thousands of years' cave formations. Totnes is at the head of River Dart and is a popular market town best known for being the centre of music, art and theatre. Experience the lively town's nightlife and dining, plus it is perfect for grabbing yourself some market bargains. This town is perfect for history, culture and renowned for its friendly community- this is a coastal city break that is not to be missed Devon has the answer to all your holiday needs and is waiting to be explored whether this is as a solo traveller, a couples retreat or a family adventure!
Yorkshire
Yorkshire - the home of historical landmarks, national parks and of course the best tea within the UK! Whether you want coastal, countryside or city chic - there is much to offer! The Northern and Eastern edges of the Peak District can be found in Yorkshire and is where you can explore the caves, valleys and country houses.
Coastlines are known in Yorkshire for their cliff top walks, family favourite beaches and great sea views. Traditional fishing villages and seaside towns are located along the Yorkshire coasts and are perfect for trying the local and fresh cuisine and taking in the beautiful scenery. Whitby, North Yorkshire, is renowned for its blue flag beaches and has some of the best fish and chips around!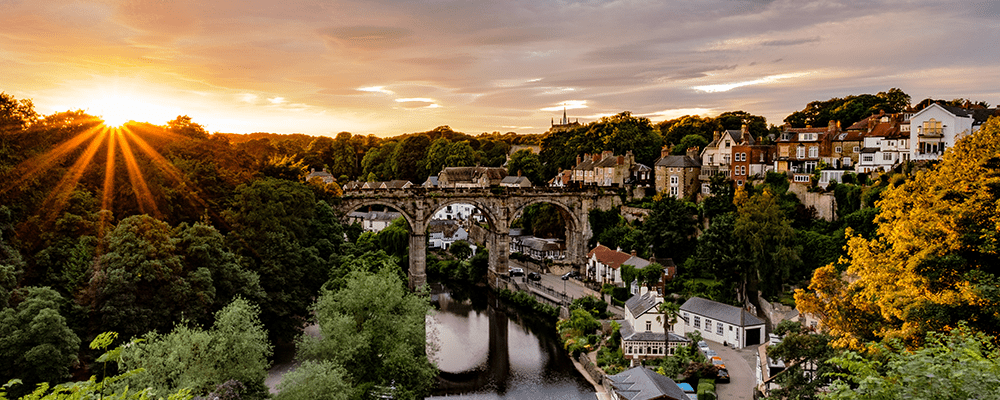 York city centre is a great way to explore the shops, restaurants and bars. Most famous for its historical landmarks such as York Minster and its cultural and sporting events which makes the destination a popular tourist attraction.
Lake District
A popular retreat where you can explore the lakes, mountains, and villages. The Lake District is the ideal location for that picture-perfect space to clear your mind and relax. Also, a location for both adventure and history seekers, it's an all-round destination for a much-needed holiday!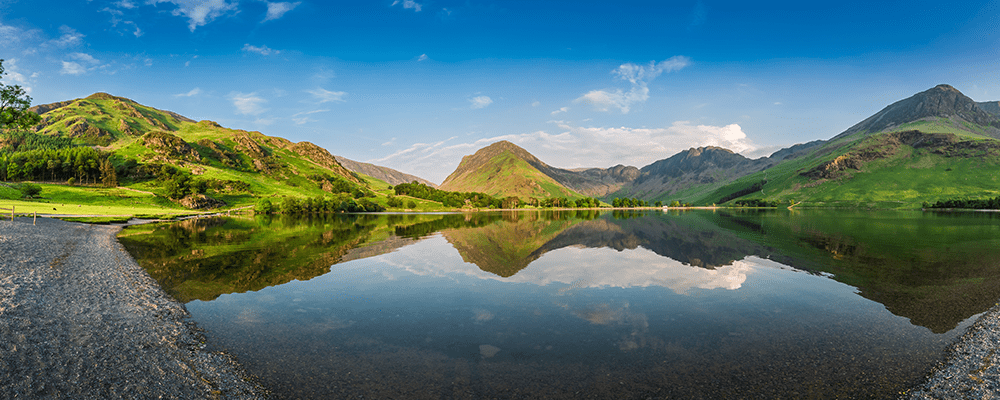 A must for all hiking lovers is to take a trip to Scafell Pike, the highest mountain in England. Do not worry if you are not an experienced walker, you can join one of the available guided or self-guided tours and capture all the fantastic views at your own pace. For all you Beatrix Potter fans, go on the Rabbit Hunt to the home of the famous author and look out for Peter Rabbit jumping into the gooseberry bushes!
Ambleside and Keswick are the local market towns in which you can explore the local art and cultures and relax in the traditional pubs and inns, experiencing some of the local dishes. Grasmere is a picturesque village within the Lake District and is known as the most beautiful place to visit. Renowned for its tea shops that have breath-taking views of Grasmere lake which you can further discover by hiring out a small rowboat. Don't you feel relaxed and in holiday-mode from just reading about the luxurious location?!
Blackpool
It's time for a seaside trip where you can experience all you need from a holiday, adventure, culture, beach activities, relaxation and the hustle and bustle of seaside life. The well-known seaside resort is one of England's most popular cities thanks to Blackpool Pleasure Beach, old-school amusements, and classic theme park rides!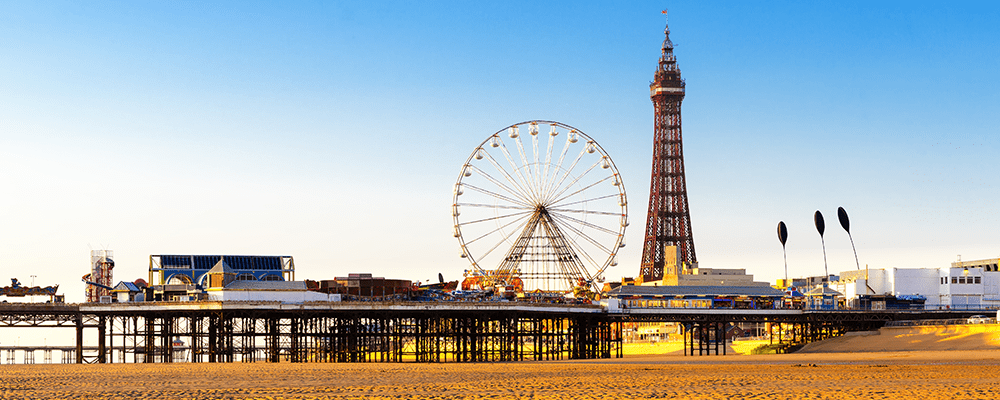 Blackpool Tower, built in 1894, is a traditional Blackpool landmark with its glass viewing platform allowing you to absorb every corner of the city. It also is host to many events such as the circus and of course the Tower Ballroom where 'Strictly Come Dancing' has been filmed. Experience what Blackpool is known for by going to see a theatre show or a circus production. Its lively nightlife and exciting restaurants and bars bring Blackpool alive at night.
Don't miss every year between September to November, you can be witness to the Blackpool Illuminations, a light show along the whole of the promenade. Blackpool can put on a show! Finally, who can forget the Golden Mile which stretches between the north and south piers? Lined with bars, restaurants, and amusements; whether you walk, hitch a ride on a donkey or on-board the local tram line, the Golden Mile is the ultimate showcase of life in Blackpool.
So, there you are... our top 5 recommended destinations for England. Where will you be travelling next? Connect, discover, and enjoy everything that the UK has to offer this bank holiday, with a coach operator that you can trust.
For information or to discuss future travel with our travel consultants, please call 03301 358 469 or click here to get a quote!